Unified Data Management (UDM) is a centralised way to control network user data. It is like 4G/LTE's Home Subscriber Service (HSS) but is cloud-native and designed for 5G. The function of the HSS in the 5G network is split into the Authentication Server Function (AUSF) and the UDM.
It acts as a front-end for the user subscription data stored in the Unified Data Repository (UDR) and executes essential functions on request from several Network Functions (NFs). It can be paired with UDR, which stores the subscriber profile information, policy data, structured data, and application data.
Within the 5GC, the UDM offers services to the Access & Mobility Management Function (AMF), Session Management Function (SMF), Short Message Service Function (SMSF), AUSF, etc., via the Nudm service-based interface.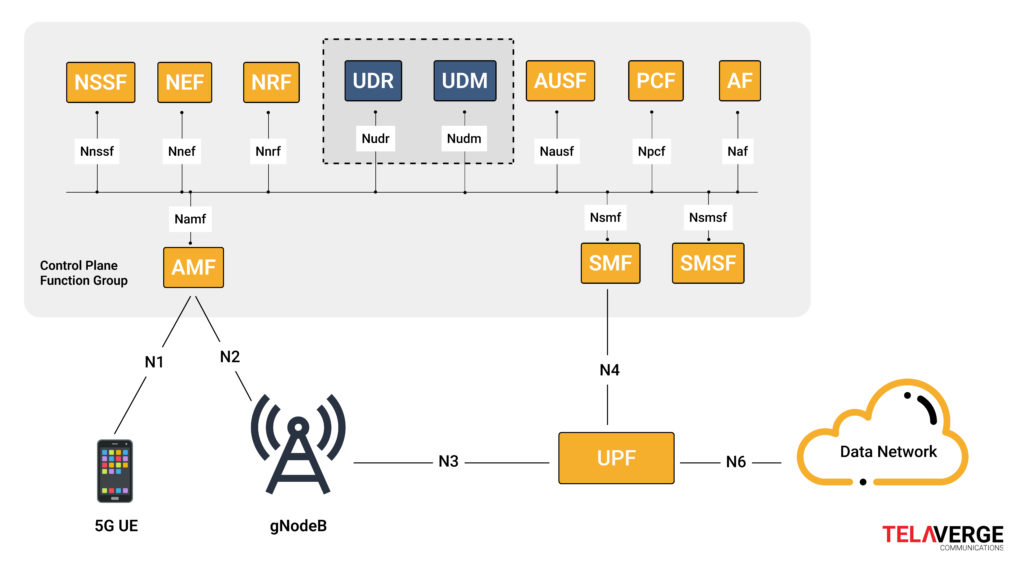 Key UDM Functions:
AMF and SMF use UDM to retrieve the UE's subscription data, like 3G HLR and 4G/LTE HSS.
Application Functions (AFs) use UDM to subscribe or unsubscribe to data change notifications.
The AUSF retrieves information from the UDM to authenticate and informs the UDM about successful or unsuccessful authentications.
The SMSF checks subscription data by interacting with the UDM. It forwards SMS messages between the AMF and the SMS networks external to the 5G Core architecture.
UDM NF comprises two logical entities: Authentication credential Repository and Processing Function (ARPF) and Subscription Identifier De-concealing Function (SIDF). SIDF is responsible for resolving the Subscriber Permanent Identifier (SUPI) from the Subscription Concealed Identifier (SUCI), and ARPF contains the subscriber's credentials.
The UDM shall invoke SIDF if a SUCI is received. SIDF shall de-conceal SUCI to gain SUPI before UDM can proceed with the request. Based on SUPI, the UDM or ARPF shall choose the authentication method, i.e., 5G-AKA, EAP-AKA', or EAP-TLS.
UDM can assume the role of both stateful and stateless. If the UDM stores data locally it is running in a stateful role. In a stateless role the UDM keeps user data separately in UDR and uses Nudr services to retrieve required data for processing. This way, database access is kept separate from the operation of the network, improving stability and flexibility.
The UDM, a central repository of information, is critical for subscriber data and other network functions in 5GC.
If your organisation would like to accelerate the Private 5G vision, please talk to us before investing heavily. We are currently doing customer trials for the Telaverge UPF solution based on an open-source platform. Our team is also working closely with partners to build and deploy other Private 5G core network elements. Kindly send a note to sales@telaverge.com for partnering with us.